Other Offences
Cold Cases are unsolved criminal investigations which remain open pending the discovery of new evidence. New information could emerge from additional witness testimony, new or retained material evidence, as well as fresh activities of the suspect. New technological advances developed after the case can be used on the surviving evidence to identify suspects or leads, often with conclusive results.
Your tips can help solve these cases and bring closure to those affected by the crime.
2015 Arson
Case #LG15453290
In an attempt to uncover new leads in a 2015 arson, the Calgary Police Service Arson Unit is releasing a video of the fire in progress and asking the public to come forward with any information they may have.
At approximately 4:10 p.m., on Saturday, Oct. 24, 2015, the Calgary Fire Department and the Calgary Police Service were called to a residential fire in the 4200 block of Elbow Drive S.W. The fire caused extensive damage to the residence. The fire was determined to be suspicious and an investigation ensued.
As part of a review of unsolved arson cases, detectives are hoping information will come to light to assist in furthering the investigation.
"It has been nearly two years since this fire. Our hope is that during the past couple years, people may have heard someone speak about it, or may have witnessed someone in the area and not yet come forward. Allegiances change. People talk. We hope someone does the right thing and comes forward," says Det. Wally Niewchas. "This was a very serious fire and we are lucky no one was hurt."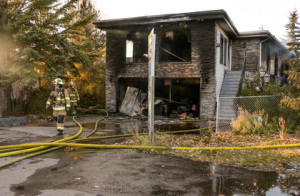 Bank Robbery
Case #CA17037903 / CA17085198
CA17037903
On January 27, 2017, at about 5:26 PM, an unknown male suspect entered the Scotiabank, located at 2525 Woodview Drive SW, and approached the teller. The suspect presented the teller with a note demanding money and indicating he had a gun. The suspect was given money and he left the bank. The suspect was described as a black male in his early 30's, 5'6" tall, 150 lbs, medium build and unshaven. He was wearing a black and grey Under Armour jacket, black pants, grey toque, red shirt, grey hiking shoes and plastic safety glasses. He also had a black satchel slung over his shoulder.
CA17085198
On March 1, 2017, at about 7:05 PM, an unknown male suspect entered the BMO bank, located at 101 Crowfoot Way NW and approached a teller. The suspect presented the teller with a note demanding money and indicating he had a gun. The teller withdrew money from the CRU and gave it to the suspect. The suspect then left the bank in the direction of the Big Bucket Carwash. The suspect was described as a black male, approximately 30 years old, 5'7", 140 lbs wearing a dark blue or black jacket, blue jeans, blue shoes, sports sunglasses, a knitted hat with mixed red and orange.
If you can identify this individual please call Det. Perry Patzwald in Robbery at 403-428-8193, or Crime Stoppers anonymously using any of the following methods:
TYPE: www.calgarycrimestoppers.org
Hit & Run Cold Case
Case #93123531-4
On October 12 1993, at approx. 8:40 pm two teenage girls were walking on the median of Deerfoot Tr. A truck swerved toward them narrowly missing one and striking 14 year old Tanya Miller. She was severely injured, having to be treated for a broken pelvis, broken arm and head injuries which required corrective surgery. The driver left the young girl lying there and fled the scene. The truck was a 1977-1979 Ford F250 Custom with a broad green stripe on both sides. At the time of the collision, the left front fender was painted primer grey.
TYPE: www.calgarycrimestoppers.org